Available Rentals at Shangri-La
Welcoming Guests from the Finger Lakes Region & Beyond
Shangri-La aims to provide high-end and eco-friendly vacation rentals where our guests can relax and enjoy themselves in a fully equipped solar-powered house or suite without any interruptions. We understand the importance of having a comfortable place to retreat to away from home. At Shangri-La, every guest is treated like family. Our staff will go above and beyond to ensure you have a wonderful stay and a desire to return in the future. We hope you will enjoy our 100% environmentally sustainable amenities, with the inspiration and motivation to carry these sustainable methods throughout your day-to-day life.
To find out if your desired vacation rental is available, visit our book now page or call us at (585) 374-2094. We look forward to having you stay with us!
Below are the complimentary amenities you will appreciate during your stay so you can succeed on a personal and professional level.
*Amenities vary by location
• Fully equipped kitchens with refrigerator, stove, microwave, and coffee maker (includes organic coffee, teas, oatmeal, and popcorn)
• Washer and dryer
• Body care products (Eco-friendly)
• Cleaning supplies (Eco-friendly)
• 120MBPS fiber-optic Wi-Fi
• Flat screen Smart TV's
• Dishwasher* (North House + South Bunk Houses)
• Steam room* (Main Suite + South Bunk House)
• Outdoor space with fire pit
• Pet-friendly
• Charcoal grills
• Picnic areas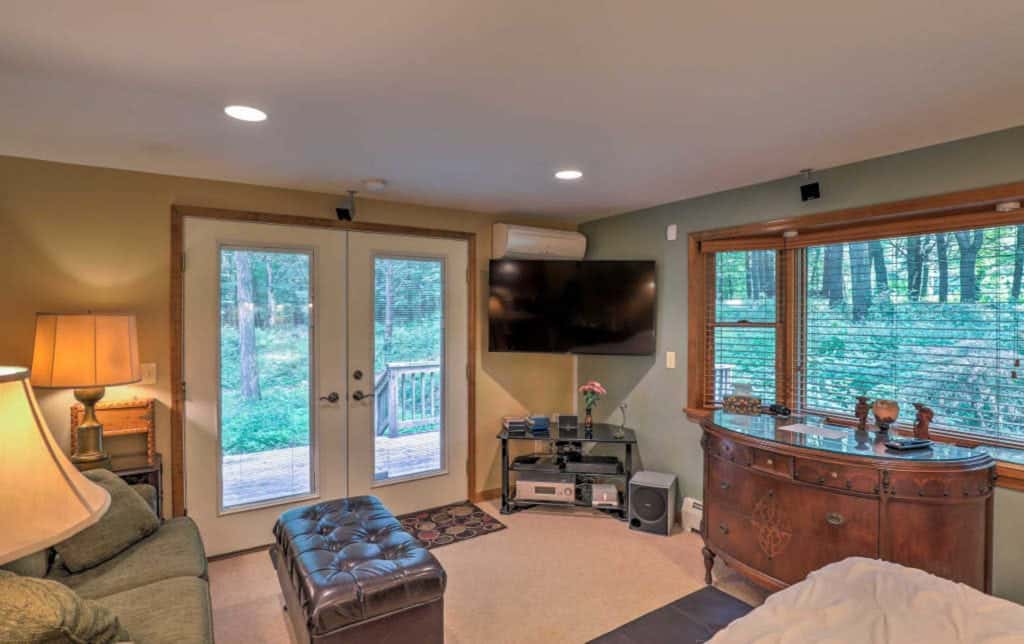 Main House Suite
---
Shangri-La available rentals: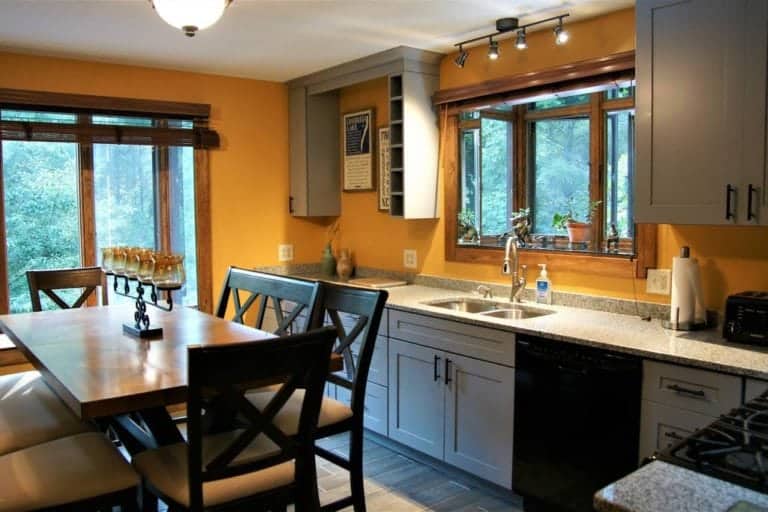 South Bunk House
The South Bunk House is perfect for corporate retreats and group vacations with a big tv that is set up for presentations or the big game. The main room can fit 25+ people and sleeps up to 12. The state-of-the-art kitchen, surround sound, and all modern amenities won't disappoint. The South Bunk House is completely off-grid, solar-powered with solar hot water.
For guests staying overnight, the jacuzzi and steamer melt away the stress of everyday life.
---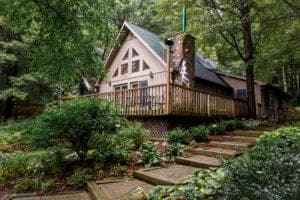 Main Suite
Our Main House Suite is powered by our solar farm, sleeps five people, and has a fully equipped kitchen. It is handicap-accessible with a private elevator entrance from the garage. This rental also includes: en suite workspace and desk, beautiful view of our wooded trails, access to the catwalk, full bathroom, walk-in steam room, luxury bedding and linens, large flat-screen TV, and 120MBPS fiber-optic Wi-Fi.